Joanne teaches Math and Chemistry at Secondary level. She has more than 20 years of teaching experience.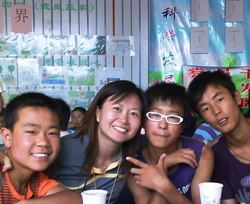 Math tutoring has become more challenging over the years as it requires one to be familiar with the syllabus changes in order to handle students from different schools of different syllabus. Unlike the younger counterparts who are able to handle only limited syllabus, Joanne's wider exposure allows her to teach all Secondary Math covering Express stream and Normal stream. She also teaches students from IP (Integrated Program) and IB (International Baccalaureate) Schools.
Joanne has been active in youth works since her student days. She taught in the TOUCH Youth Learning School and conducted Enrichment Programs in secondary schools on Youth Learning, covering DISC, Study Skills, Mind Map, Stress Management, Service-Learning and much more. Her strong passion in youth work led her to become a professional math tutor as it gives her opportunity to bond with youths. She delights in using her interests to turn math learning into something enjoyable and motivational.
Joanne takes a strong interest in seeing her students succeed. She believes that through tutoring and mentoring, wisdom is imparted to help boys and girls make better decision in life. She discusses improvements with students and their parents regularly and ensures that students are prepared to move on to higher education.
Joanne obtained Degree in Economics and Sociology from National University Of Singapore, with electives in Math. She is a keen learner, always seeking ways to improve herself and acquire new knowledge. She enjoys learning by travel. She also takes part in humanitarian projects whenever possible and travels in developing countries help and to teach.